Comedy Nights At The Duke: Everything You Need To Know
Posted: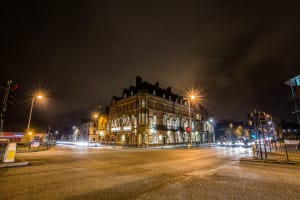 The Duke of Edinburgh's Barrow Comedy Club – The Duke of Comedy is our fantastic comedy night, held twice a month in The Vaults. The Vaults is a unique restaurant and bar in the Duke of Edinburgh Hotel's cellar that was once an air raid shelter for local residents during World War II. Converted in 2012, The Vaults is now an impressive, contemporary restaurant, bar and function room, and a great place to relax with a drink and enjoy our comedy night.
There are usually two comedy nights per month. On the first Thursday of the month, there is usually a Stand-up For Local Charities comedy night where all proceeds go to a worthwhile charity or an amateur comedy night where a professional comedian hosts and some amateur and semi-professional comedians perform for 10 minutes each. Tickets for these nights range from £2 to £4.
The third Thursday of the month is our pro night, which sees around four or five of the best comedians on the circuit providing plenty of laughs for the audience. Some of the biggest comedians to have performed at the Barrow Comedy Club include Tony Burgess (winner of the prestigious City Life Comedian of the Year Award and co-writer of Wallace & Gromit: The Curse of the Were-Rabbit) and Sam Avery (The Learner Parent). A brilliant headline act will finish off the evening. Tickets for the pro night are £8 each.
Thursdays at the Duke of Edinburgh are also Burger Night, where you can enjoy a burger and a drink for £12.50. View our Burger Night menu here. You can dine in The Vaults (where the Duke of Comedy is held) from 6 pm, and the show begins at 8 pm. We do recommend arriving early so that you can get a good seat, and please be aware that you may have to share a table with other people. We also advise that Barrow Comedy Club – The Duke of Comedy is an adults-only event, so you must be aged eighteen or over to attend.
Information about the lineups for Barrow Comedy Club can be found on our Facebook page, and tickets can be purchased at either the Duke of Edinburgh Hotel, or online here. 
Sam Hughes, who organises the events, has to say of its success: "It's something a bit different. Word of mouth has been a huge part of its success – it also helps that the acts are really good!"
Here's what some of our lovely guests have said about the comedy nights:
"Great fun and value for money. Myself and Mrs have been to both amateur and pro nights at the Duke. It was tremendous fun, great atmosphere, fab acts and real value for money" – Luke, TripAdvisor
"Fantastic night at the comedy club. Exactly what Barrow needs. Well organised event and all the comedy acts were brilliant" – Christopher, Facebook
"Have been a few times now to the Duke of Comedy, as both an audience member and performer. The place is lovely in the self-contained basement bar (own bar and toilets etc). Sam puts on a really professional show and for the price (£4 – £8) is more than value for money I'd say! Keep up the great standard Sam!" – Nick, TripAdvisor
"Great night of comedy. The headliner Stacey Wilcox had me crying with laughter. Great night, and great value. Very well organised." – Gareth, Facebook
"Fab night to raise money for local charities. Very funny comedians and brilliantly organised. Will definitely be going again!" – Cath, TripAdvisor
"Went last night for the first time and we will be back! Fantastic night, so relaxed and filled with laugh out loud belly laughter. Just perfect" – Velma, Facebook