The 5 Places In Barrow You Have To Visit
Posted: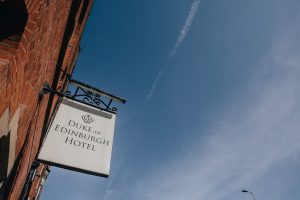 While the Duke of Edinburgh Hotel has handy access to the South Lakes and the Lake District National Park, you needn't venture far from Barrow for a great day out. Barrow has a rich history, from Viking invaders to the rise of the shipbuilding industry, and is surrounded by beautiful scenery and nature hotspots. We've compiled a list of the top five attractions in and around Barrow that you should visit during your stay at The Duke of Edinburgh Hotel.
Furness Abbey
Furness Abbey dates back to 1123, and was a former Cistercian monastery and was once the second wealthiest monastery in England, after Fountains Abbey in North Yorkshire. During the Dissolution of the Monasteries, Furness Abbey was disestablished and destroyed in 1537, but its ruins still stand today. Made entirely of local sandstone and situated in the Vale of Nightshade, a short distance from Abbey Road, this historic site is well worth a visit; a large portion of the abbey is still standing and is a truly impressive sight.
The abbey is managed by English Heritage, with a museum and shop on-site offering guidebooks, gifts and refreshments. Adjacent to the abbey is the Abbey Mill Café, which serves hot and cold food, hot drinks and cream teas. The area surrounding Furness Abbey also has some fantastic walking routes through the woodlands and open fields.
Piel Island/Piel Castle
Piel Island is a small island, about half a mile off the coast of the Furness Peninsula, and is home to Piel Castle and the Ship Inn pub. You can access Piel Island by catching the ferry from Roa Island (subject to weather conditions), and explore this intriguing island. Piel Castle was built in the 14th century to defend Furness Abbey, and the ruins remain today; Piel Castle is managed by English Heritage and is free to visit.
After exploring the castle ruins, pay a visit to The Ship Inn before catching the ferry back. The Ship Inn offers light bites and main meals, as well as a children's menu, and a fully stocked bar with a range of beers, wines and spirits. Fun fact – the pub landlord is traditionally known as the King of Piel Island!
The Dock Museum
The Dock Museum is the best place to visit if you want to learn more about the history of Barrow-in-Furness. Built on the site of an old dry dock, most of the exhibitions focus on Barrow's shipbuilding industry, and how Barrow was transformed from a small village to a major industrial town within the space of a few decades. Other exhibits include Viking treasure found in the nearby area, life during the Victorian era, and the impact of WWII on Barrow.
The Dock Museum is free to visit and has a great outdoor adventure playground, as well as a café serving a range of tasty hot and cold food. There's also a souvenir shop, where you can pick up locally made items and books by local authors.
Barrow Park
For a peaceful retreat, visit Barrow Park: this award-winning 45-acre park is the perfect place to spend an afternoon strolling in the sunshine. With stunning scenery and ornamental trees and flowerbeds, the park also contains a boating lake, bowling greens, greenhouses, a miniature railway, skate park, and a fantastic playground.
There's also a bandstand where live music is performed, and Café Pavillion, which offers hot and cold drinks, snacks, and ice cream. On warmer days, you can take advantage of the picnic area and enjoy the beautiful park surroundings. There are also artificial pitches for playing sports, and the Barrow Parkrun is held every Saturday, so this is a great place to get outside and get active.
South Walney Nature Reserve
For the chance to spot some fantastic wildlife, visit South Walney Nature Reserve. With fantastic views across Morecambe Bay, this nature reserve is home to over 250 bird species, many of which are migrating birds, including eider ducks, great black-backed gulls, ringed plovers, and more, making it a must-visit location for bird watchers.
South Walney Nature Reserve is also home to the only grey seal colony in Cumbria; the seals can be spotted playing in the water at high tide, and you might even spy some seal pups. The area of the reserve where the seals are located is strictly restricted to protect the seal pups, but even from a distance, they're still a lovely sight! You can also spot barn owls and peregrine falcons in the area, all year round. Not only is the nature reserve home to a variety of wildlife, but the unusual vegetated shingle is also home a range of plants, including yellow horned poppies, sea campion, and sea lavender. There are several marked walking trails around the reserve, with access to toilet facilities and a picnic area.
We hope that our guide to the top five places to visit in Barrow has given you some inspiration for your stay at The Duke of Edinburgh Hotel. If you have any questions about any of these destinations, please just ask a member of our team, who will be happy to tell you more, and might even have their own suggestions about where you should visit.